Thank you for supporting TITAS and our commitment to excellence. It is donors like you that make it possible for TITAS to bring the most intriguing and interesting dance and music artists to North Texas.
There are great artists lined up for next season, your contribution directly impacts our ability to bring you the best. Thank You!
---
DONATE TODAY TO THE TITAS ANNUAL FUND
CLICK HERE to become a Sustaining Supporter or to make a one time gift through Network for Good. What we do together, truly does make a difference.
---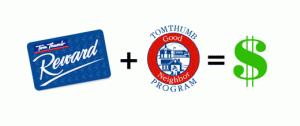 Tom Thumb Good Neighbor Program – Tom Thumb pays TITAS a percentage of your account total, so be certain to use your Tom Thumb reward card every time you shop at your local Tom Thumb.
PLEASE print, complete and return this form to your local neighborhood TOM THUMB Courtesy Booth.  Download and Print form
In keeping with the IRS regulations, the fair-market value of certain membership benefits and privileges may reduce the tax deductibility of your gifts. The value of these benefits will be noted in the acknowledgments for your gifts. Annual gifts totaling less than $3,000 are fully tax deductible.